Search
Content
For Authors
For Reviewers
Indexed by

CrossCheck
Conference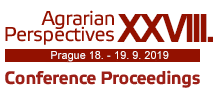 Partners

Competitiveness of Agrarian Areas in the Stavropol Region
V. Varivoda, W. Heijman, J. van Ophem
Agris on-line Papers in Economics and Informatics, No 1 /2010, March
Abstract
Regional development is determined by possessing specific competitive advantages and their constant improvement. The problem how to increase competitiveness of the areas remains one of the most important for the agrarian sector. Russian economic policy aims at the stable development of the agro industrial complex (and agriculture as its central part). Therefore it is necessary to analyze competitiveness not only on the country level, but also on the regional and sub-regional scale. In this paper we have analyzed the major factors influencing the competitiveness of agricultural areas in the Stavropol region.
Keywords
Competitiveness, agrarian areas, Stavropol region, regional and sub-regional scale
Full paper

Full paper (.pdf, 370.21 KB).