Search
Content
For Authors
For Reviewers
Indexed by

CrossCheck
Conference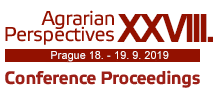 Partners

About the journal AGRIS on-line Papers in Economics and Informatics
ISSN 1804-1930
The international journal AGRIS on-line Papers in Economics and Informatics is a scholarly open access, blind peer-reviewed by two reviewers, interdisciplinary, and fully refereed scientific journal.
The journal is published quarterly on March 30, June 30, September 30 and December 30 of the current year by the Faculty of Economics and Management, Czech University of Life Sciences Prague.
AGRIS on-line Papers in Economics and Informatics covers
all areas of agriculture, agricultural engineering and rural development:
agricultural economics
agribusiness
agricultural policy and finance
agricultural management
agriculture's contribution to rural development
information and communication technologies
information and database systems
e-business and internet marketing
ICT in environment
GIS, spatial analysis and landscape planning
The journal provides a leading forum for an interaction and research on the above-mentioned topics of interest. The journal serves as a valuable resource for academics, policy makers and managers seeking up-to-date research on all areas of the subject.
The journal prefers scientific papers by international teams of authors who deal with problems concerning the focus of our journal in the world-wide scope with relation to Europe.
AGRIS on-line Papers in Economics and Informatics is indexed by Scopus since 2011 with SJR (SCImago Journal Rankings).
SJR (2012): 0.139, SJR (2013): 0.254, SJR (2014): 0.299, SJR (2015): 0.248, SJR (2016): 0.344, SJR (2017): 0.357.
The journal is now listed or indexed by EBSCO, ProQuest, RePEc, CAB Abstract, AgEcon Search, EconPapers, Google Scholar, Academic Journals database,
A-Z Database List, ResearchBib Journal Database, Uniform Information Gateway, Geobase.
All submitted articles should report original, previously unpublished, theoretical and experimental research results.
The journal welcomes the submission of manuscripts that meet the general criteria of significance and scientific excellence.
All Papers are published in English.
For Similarity Check (formerly CrossCheck) Publishers:
The journal is a participant of Similarity Check, a service offered by CrossRef and powered by iThenticate software. iThenticate is a plagiarism screening service that verifies the originality of written work. iThenticate checks submissions against millions of published, scholarly works, and billions of web content. Authors, researchers and freelancers can also use iThenticate to screen their work before submission by visiting www.ithenticate.com.
The journal is managed by an international editorial board.
Editor-in-Chief: Prof. Ing. Miroslav Svatoš, CSc.
First published in 2009, the journal succeeds the Agris on-line (published during the years 2000 – 2009, ISSN: 1213-1369), upholding the tradition of that long-established journal.
Projects
International comparisons of product supply chains in the agri-food sectors: determinants of their competitiveness and performance on EU and international markets (COMPETE)
Conferences
International scientific conference Agrarian Perspectives