Search
Content
For Authors
For Reviewers
Indexed by

CrossCheck
Conference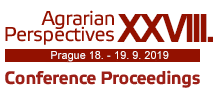 Partners

Using Metadata Description for Agriculture and Aquaculture Papers
P. Šimek, J. Vaněk, V. Očenášek, M. Stočes, T. Vogeltanzova
Agris on-line Papers in Economics and Informatics, No 4 /2012, December
Abstract
The paper deals with the most used metadata formats and thesauri suitable for describing scientific and research papers in the domains agriculture, food industry, aquaculture, environment and rural areas. These include the Dublin Core (DC), Metadata Object Description Schema (MODS), Virtual Open Access Agriculture and Aquaculture Repository Metadata Application Profile (VOA3R AP) and the AGROVOC thesaurus. Having analyzed the metadata formats and research paper lifecycle, the authors would recommend that each paper should entail metadata description as soon as it is published. The metadata are to describe the content and properties of the paper. One of the most suitable metadata formats is the VOA3R AP that is partially patterned on the DC and combined with the AGROVOC thesaurus. As a result, an effective description, availability and automatic data exchange between and among local and central repositories should be attained.The knowledge and data presented in the present paper were obtained as a result of the following research programs and grant schemes: the Grant No. 20121044 of the Internal Grant Agency titled "Using Automatic Metadata Generation for Research Papers", the Grant agreement No. 250525 funded by the European Commission corresponding to the VOA3R Project (Virtual Open Access Agriculture & Aquaculture Repository: Sharing Scientific and Scholarly Research related to Agriculture, Food, and Environment), http://voa3r.eu and the Research Program titled "Economy of the Czech Agriculture Resources and their Efficient Use within the Framework of the Multifunctional Agrifood Systems" of the Czech Ministry of Education, Youth and Sport number VZ MSM 6046070906.
Keywords
Metadata, element, paper, description, thesaurus, AGROVOC, Dublin Core, VOA3R AP.
Full paper

Full paper (.pdf, 241.79 KB).