Search
Content
For Authors
For Reviewers
Indexed by

CrossCheck
Conference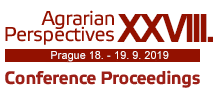 Partners

Positive and Negative Aspects of Financial Economic Development in Selected Branches of the Food Industry of the CR in 2007 – 2009 as Revealed by Spider Analysis
L. Mejstříková, J. Mezera, M. Plášil
Agris on-line Papers in Economics and Informatics, No 2 /2011, June
Abstract
The food industry as an important part of the agriculture sector markedly influences through its financial economic results development both in agriculture and in related links of the food chain. The objective of the present paper is to identify negative and positive these aspects of results obtained in this sector in 2007-2009 and to reveal some risks that can retard the agriculture sector and/or to indicate positive trends that will lead to its development. Some segments – manufactures influencing the results of the food industry as a whole in a pronounced way were selected for analysis. The graphical model Spider Analysis was used for an expeditious and objective evaluation of results in the branches of manufacture and their position within the studied sector for the given period.
Keywords
Spider Analysis, food industry, profitability, liquidity, financing, assets
Full paper

Full paper (.pdf, 221.44 KB).