Search
Content
For Authors
For Reviewers
Indexed by

CrossCheck
Conference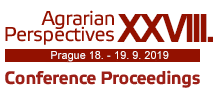 Partners

The Technical Efficiency Analysis – Case of Agricultural Basic Industry in Slovakia
P. Bielik, D. Hupková
Agris on-line Papers in Economics and Informatics, No 1 /2011, March
Abstract
The agricultural companies are operating in the environment with high level of competition and therefore it is for them important to retain respectively to improve their market position to reach higher measure of production process efficiency. As the principal measurement of the production performance was applied technical efficiency which is the assumption to reach the total economical efficiency of company. According to the results we can state that the technical efficiency measure has during analysed period declining trend. Since the year 2001 when the technical efficiency measure reached the highest level was registered decline of the technical efficiency, except the year 2005. The average level of the technical efficiency measure during the years 2006 and 2007 is possible to explain with increasing differences between the analysed companies. Just few companies achieved very good results in the production process. Based on the results of the technical efficiency measure is possible to expect deepening of differences between the companies in future.
Keywords
the Data Envelopment Analysis - DEA, Technical Efficiency, Agricultural Enterprises, Basic Industry
Full paper

Full paper (.pdf, 127.93 KB).