Search
Content
For Authors
For Reviewers
Indexed by

CrossCheck
Conference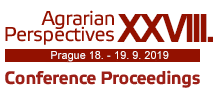 Partners

Vision Statements and Road-Map Methodology for Knowledge Management Adoption
K. Charvát, P. Gnip, M. Gemtou, T. Vogeltanzová
Agris on-line Papers in Economics and Informatics, No 4 /2010, December
Abstract
The present paper describes the strategy of introducing future knowledge management system at farms. The FUTUREFARM and PREZEM projects strive to apply new knowledge management methods in arable farming where they guarantee an easy adaptation of the farming sector to the everchanging conditions in short, middle and long-term perspective. The knowledge management methods have to be put into practice on strategic, tactic and operational planning levels. Based on the project analysis and workshops with farmers, the paper brings an outline of the main goals and obstacles for new knowledge management methods adoption and furthermore defines the target groups and relevant methods of dealing with them.
Keywords
Knowledge management, adaptation, arable farming.
Full paper

Full paper (.pdf, 135.84 KB).