Search
Content
For Authors
For Reviewers
Indexed by

CrossCheck
Conference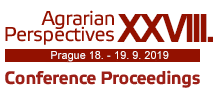 Partners

WCA Framework
T. Rain, I. Švarcová
Agris on-line Papers in Economics and Informatics, No 3 /2010, September
Abstract
This article describes subject-matter and components of WCA Framework. Authors describe individual elements of WCA. Article is being coupled with explaining of WCA Framework. Authors furthermore introduce differences between WCA Framework and additional analytical methods. Authors pay attention to relation between information technology, information system, work system, firm and business environment.
Keywords
WCA Framework, customer, product, business process, information, participant, information technology.
Full paper

Full paper (.pdf, 77.66 KB).