Search
Content
For Authors
For Reviewers
Indexed by

CrossCheck
Conference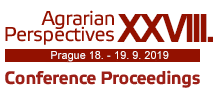 Partners

Function and Significance of Reparcelling in Czech Republic
J. Bartůšková, J. Homolka, O. Škubna
Agris on-line Papers in Economics and Informatics, No 3 /2010, September
Abstract
The law No. 139/2002 Col., on reparcelling and land offices can be consider as one of the most important tools of active land law in the CR. In frame of administrative procedure in public interest, the law enables to re-parcel lands and ownership relations to them in order to create conditions for consequential management. A property right to newly defined parcels is acquired by a decision of the appropriate land office which is an administrative authority. By means of reparcelling, also "modern" ecological problems are solved. Reparcelling is necessary for renewal of statutory land registration, clearing and delimitation of borders in the landscape, and so it is a significant contribution for renewal of peace in land ownership in the CR shaken in 1948 – 1989. Reparcelling shows only secondary economic impact, it is more suitable to assess the effectiveness only from the point of view of effectiveness of the financial means expended for reparcelling. The pieces of knowledge presented in the paper are a result of solution of the research intention 6046070906 "Economics of Czech agriculture resources and their efficient use in frame of multifunctional agri-food systems".
Keywords
Land law, land office, reparcelling, ownership, real estate cadastre.
Full paper

Full paper (.pdf, 192.72 KB).