Search
Content
For Authors
For Reviewers
Indexed by

CrossCheck
Conference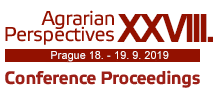 Partners

Best practices of GIS applications in the Hungarian agriculture
G. Ráthonyi, L. Várallyai, M. Herdon
Agris on-line Papers in Economics and Informatics, No 2 /2010, June
Abstract
Information and analysis produced with the use of GIS applications efficiently support the work of the users of the software and decision makers irrespectively of they are a single person or the Hungarian Government. We primarily discuss the major agriculture applications – Land Parcel Identification System (LPIS) and National and Regional Planning Information System (TeIR) – from the aspect of the sector which may save time, energy and money for its users.LPIS is exclusive national land parcel identification system of the procedures of agricultural subsidies. The data of this identification system can be used in the applying of European Union subsidies which are available in a geographical information system.TeIR can help such organizations, which deal with planning and developing activity and controlling at a sector level in decision making in connection with regional development and land use planning.
Keywords
Land Parcel Identification System, Integrated Administration and Control System, orthophotos, physical block, land development, Internet
Full paper

Full paper (.pdf, 1.16 MB).