Search
Content
For Authors
For Reviewers
Indexed by

CrossCheck
Conference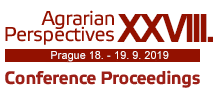 Partners

Evaluation of data box introduction process in the Czech Republic
J. Jarolímek, E. Červenková, J. Vaněk, V. Smíšková
Agris on-line Papers in Economics and Informatics, No 2 /2010, June
Abstract
One of base building stones of eGovernment development in the Czech Republic is so called Data boxes which were introduced to unify communication and to increase efficiency in public administration. The aim of a study carried out by the Department of Information Technologies was to analyze the implementation procedure and to use data boxes. The questioning took place in December 2009, i.e. c.6 weeks after introduction of duty to use a data box.Obtained results are important above all because the development process of eGovernment still does not end. The suggestion from data box implementation can significantly facilitate introduction of basic registers and other applications.
Keywords
eGovernment, Data box, 300/2008 Col., 111/2009 Col., Basic registeres
Full paper

Full paper (.pdf, 238.87 KB).