Search
Content
For Authors
For Reviewers
Indexed by

CrossCheck
Conference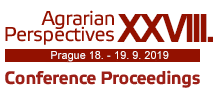 Partners

The Impact of Foreign Investments on the Achievement of Economic Growth
M. Maitah, N. Salim
Agris on-line Papers in Economics and Informatics, No 2 /2010, June
Abstract
This article deals with the analysis of the positive side of the foreign direct investments in the World´s economy. The importance of this research is derived from the significant role that can be played by foreign investments in industrialized and developing countries. Some countries are still hesitant to attract the foreign investments despite its human and physical potentialities. The foreign investments are mainly influenced by political and economical factors. Foreign direct investments to developing countries are growing very rapidly. In the past, these investments were limited to raw material sectors, nowadays the current investments involve more sectors than ever before. These investments have implications of trade and integration. The revival of foreign investments implies that the risks to private investments have been lowered mainly because of specific policy changes and of improvements of governance more generally. In this research we have mainly used the descriptive methods on the basis of data collection.
Keywords
Foreign direct investment, global economy, international economy, developing countries, multinational companies, economic growth.
Full paper

Full paper (.pdf, 148.35 KB).