Search
Content
For Authors
For Reviewers
Indexed by

CrossCheck
Conference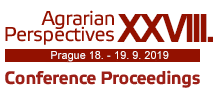 Partners

Prefarm Systems and economical analysis of practical experiences
P. Gnip, S. Kafka, J. Čepický, K. Charvát
Agris on-line Papers in Economics and Informatics, No 2 /2009, December
Abstract
The system of Precision farming guarantees a detail monitoring of data and information necessary for a successful decision in a crop production. The system is designed for a data collection from several sources. The data are collected by a service company and also directly by farmers. The paper also analyses the economical efficiency on the base of Medlov Farm. Next development is currently running under projects Prezem and AgriSensor.
Keywords
GPS, GIS, precision farming, economical analysis, monitoring
Full paper

Full paper (.pdf, 1.52 MB).