Search
Content
For Authors
For Reviewers
Indexed by

CrossCheck
Conference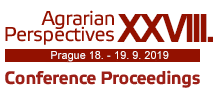 Partners

Videoconferencing for more effective cooperation
Zdeněk Havlíček, Jiří Vaněk , Edita Šilerová, Petr Benda and Alan M. Westcott
Agris on-line Papers in Economics and Informatics, No 1 /2009, September
Abstract
This contribution has three parts. The first part focuses on the analysis of the basic functionalities of different videoconference systems. The second part presents practical experience in the use of different videoconference systems in the NODES project and within the framework of the ELLS universities network. The third part provides recommendations for virtual meetings in the rural context, particularly in respect of overcoming the distance handicap and the geographical isolation of rural communities.
Keywords
Videoconferencing, cooperation, virtual meeting, rural sustainability, Nodes project, ELLS
Full paper

Full paper (.pdf, 395.78 KB).