Search
Content
For Authors
For Reviewers
Indexed by

CrossCheck
Conference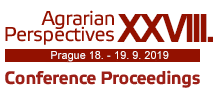 Partners

ICT industry and resources based analysis of maintenance SME in the Central Europe
Š. Tesař , Z. Havlíček, V. Očenášek
Agris on-line Papers in Economics and Informatics, No 4 /2010 Special, December
Abstract
Highly competitive situation in Information and Communication technology (ICT) maintenance industry requires a precise analysis of all important factors and carefully defined company strategy which addresses each of these aspects. This paper presents a resource based analysis of family run SME, operating in IT parts and consumables market. In order to understand this complex view, it first describes the company background. It briefly presents the industry key success factors and company strategy of the SME. The value chain analysis helps to name the main organization's capabilities and evaluates them in terms of costs and customer willingness to pay. Resource audit provides an analysis of key company tangible, intangible and human resources. The outcome of this audit shows that most of SME resources are of an intangible nature. Contrary to the higher mobility of today's resources, intangible resources of SME such as company reputation, culture and strategic business relations, are mostly immobile and inimitable. Based on the audit all key resources and capabilities are appraised by their strength and importance relative to closest rivals. Results are presented in graph which recognizes the key strengths (family run business related) and weaknesses (IT and finance). The results of the resourced based analysis lead to recommendations for changes in order to create and retain competitive advantage.
Keywords
ICT, resource based analysis, resources, capabilities, strategy, SME.
Full paper

Full paper (.pdf, 202.60 KB).